Okay, so we've finally tried all three MAJOR brands of hybrid diapers. There are smaller brands, but we've tried the big three:
Grobaby
Flip
gDiapers
I have to say, each has some nice feature which draws me, but no one has a clear advantage. I like them all in some way. Each system has a fabric cover and both cloth and disposable inserts. We have used all of the insert types with the exception of Flip organic inserts and gCloth inserts. We can't get our hands on the gCloth and simply haven't needed Flip organic inserts with our other prefold and preflat stash avaiable for use in the Flip cover.
A quick peek at
Grobaby: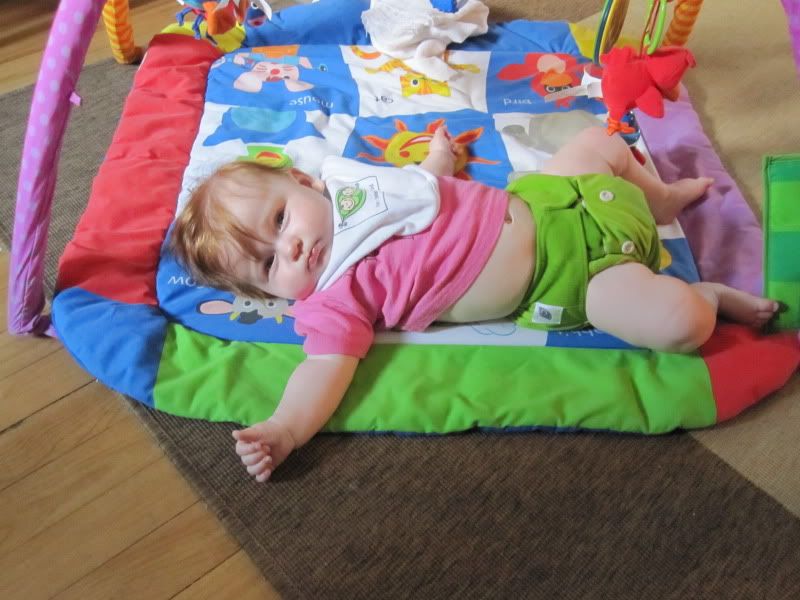 PROS of Grobaby's shell ($17):
available in snap or space-aged aplix and snap-conversion is offered
very well made
dries quickly
narrow crotch
available in prints or solid colors
CONS of Grobaby's shell:
poop gets caught in the mesh lining
non-KAM snaps means moms can't do in-home snap repair if needed
colors fade with washing
fabric gets pilly where aplix attaches
PROS of Grobaby biosoakers (disposable inserts) ($0.40 each):
flushable inner materials
elasticized leg gussets
adhesive holds insert in place
waterproof backing keeps messes from shells
stay nicer in the diaper bag, do not pick up lint or get fuzzy
CONS of Grobaby biosoakers:
flushable inners are difficult to get out of the outer casing. You have to tear the casing on at least three sides and risk dumping wet inner material all over the floor.
adhesive transfers from the biosoaker onto the shells
harder to get positioned in shell, due to elastic and folding in of edges
most expensive insert
PROS of Grobaby cotton soakers ($8.50 each):
snap in place for easy use
100% cotton
does not require folding for smaller sizes

CONS of Grobaby cotton soakers:
take a very long time to dry, as in 2 drier cycles and an overnight line-dry
fleece top layer gets rough over time and stains fairly easily
A quick peek at
Flip:
PROS of Flip covers ($13.50):
snapping
one-size (this can be a con, though)
thin and flexible
soft fabric and soft leg elastic leaves no red marks
wipe-clean inner
can be used as a cover over ANY diaper
CONS of Flip covers:
only available in solid colors
loose leg elastic can make getting a good seal difficult on a skinny baby
one-size means folded-over material, which can be awkward
PROS of Flip inserts ($0.28 each):
can double up for extra absorbancy because there is no waterproof backing
no plastic at all
inserts lie nicely in shell when preparing the diaper
less expensive
easy to fold down to fit into the shell
least expensive insert (comparable to regular disposables)

CONS to Flip inserts:
no elastic legs, so poo can get on cover
when thoroughly soaked, we found fluffy, fibrous material stuck to the baby's bum
narrow insert bunches quickly
PROS of Flip stay dry inserts ($5):
microsuede top feels dry and resists staining
microfiber absorbs quickly without bulk
dries quickly in the drier
CONS of Flip stay dry inserts:
man-made material
does require occasional bleach added to the wash to control stinkies (1T in the hot load every 2 weeks)
has to be folded to fit, which leaves a bulge
does not snap in place, which means it can slide out of place while applying to baby's bum
A quick peek at
gDiapers:
PROS to gDiapers "little gpants" ($15):
soft and silky to touch and pat the bum
snap out liners means you can keep the outer pant that matches the outfit all day, even when baby poops on the liner
aplix closes in the back to keep baby from undoing her diaper
easily available at non-diapering stores (grocery stores, coops, Babies R Us)
fully-elasticized liners really hold the liner in place

CONS to gDiapers "little gpants":
snap-in liners mean you have to take extra time to prepare the gpants if it's not pre-loaded
waistband has sharp corners which dig in and leave red marks on baby's waist
back placement of aplix makes it difficult to put on
uses real aplix of the superstrong variety. Close the laundry tabs or else risk destroying your laundry.
NOT available in snaps
PROS to gDiapers "flushies" (disposable inserts) ($0.50 each not on sale, $0.36 each on sale):
flushable
compostable
entirely non-plastic which is great for the environement AND for doubling up inserts if necessary
wide inserts completely fill the gpant
CONS to gDiapers "flushies":
not very soft, but not really much rougher than Flip's.

most expensive insert unless you buy on sale (which is fairly easy to do)
I have not had an opportunity to try gCloth, as my local stores are sold out. If you would like to donate a few gCloth inserts to me so that we can try them out, please drop me a message! LOL.